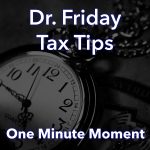 Dr. Friday 0:00
Good day. I'm Dr. Friday, president of Dr. Friday Tax and Financial Firm. To get more info go, to www.drfriday.com. This is a one minute moment.
And it's time guys! W-2s, 1099s must be in the mail if you're an employer or if you have subcontractors and vendors. Today, the last day of the month you need to make sure by January 31st you have W-2s and 1099s completed and sent out. It's very important. And those have to be mailed to the government as well. No longer having that long window so we can make sure there were no problems. They need those so that they can match them up because people have already started filing their taxes.
If you need help with this you need to call us immediately at 615-367-0819 or go to my website drfriday.com and click on appointments and set one up today.
Announcer 0:52
You can catch the Dr. Friday Call-In Show live every Saturday afternoon from 2 pm to 3 pm right here on 99.7 WTN.