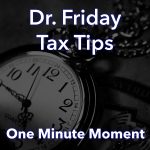 Dr. Friday 0:00
Good day. I'm Dr. Friday, President of Dr. Friday's Tax and Financial firm. To get more info go to www.drfriday.com. This is a one-minute moment.
Dr. Friday 0:12
And today is Black Friday. So now's the time to think before you go out and spend a ton of money. Are you really spinning it on the right things? I know. It's a great deal. And it's a time where you want to think about all the Christmas times coming. But remember, if you're putting a ton of stuff on your credit card, and then you're building up credit card debt, and then you're going to be paying 18% interest. I know I'm not the most happy person when it comes to this time of the year but I really want to protect you. Think about paying cash this year. Think about how you'll be able to eliminatctually paying off debt will be a gift that y ou can give to yourself. If you've got tax problems or tax questions, call me at 615-367-0819.
Announcer 0:51
You can catch the Dr. Friday call-in show live every Saturday afternoon from 2 pm to 3 pm on 99.7 WTN.