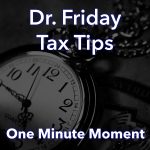 Dr. Friday 0:00
Good day. I'm Dr. Friday, President of Dr. Friday's Tax and Financial firm. To get more info go to www.drfriday.com. This is a one-minute moment.
Dr. Friday 0:12
And this is for individuals that are on Medicare or taking Social Security. It may be in the 2021 year you actually ended up with a really high income because of a sale of something. It is possible to file married filing separately; it may save you on the Medicare tax as far as we all know; Medicare is means-tested, they will charge you, and they're always working almost two years behind, but they'll increase the amount of money, and it's possible that we could actually only have one person infected instead of two, but this has to be done prior to filing your tax return. If you need help understanding how we can help you save tax dollars.
Announcer 0:51
You can catch the Dr. Friday call-in show live every Saturday afternoon from 2 pm to 3 pm right here on 99.7 WTN.