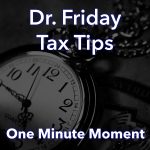 In this insightful episode of Dr. Friday Tax Tips – One Minute Moment, Dr. Friday, the renowned president of Dr. Friday's Tax and Financial firm, delves into the tax implications for young entrepreneurs, particularly focusing on newspaper carriers. A listener inquires if the income earned by their son as a newspaper carrier is subject to Social Security and Medicare taxes and whether filing a Schedule C is necessary. Dr. Friday reflects on her own experiences as a youth, undertaking similar jobs, and offers expert advice. She clarifies that earning over $600 classifies one as self-employed, necessitating proper income reporting on Schedule C. The episode is not just informative for parents of young workers but also enlightening for anyone employing or engaging with young entrepreneurs. For personalized guidance, Dr. Friday encourages reaching out to her office. Plus, don't miss the opportunity to catch Dr. Friday's live call-in show every Saturday afternoon for more tax insights.
Transcript
G'day, I'm Dr. Friday, president of Dr. Friday's Tax and Financial firm. To get more info go to www.drfriday.com. This is a one-minute moment.
I think this is always a great question. It says, my son is a newspaper carrier. I would like to know if his income is subjected to Social Security and Medicare and if he needs to file a Schedule C. And that's a great question because I don't know about a lot of people, but I did grass cutting as a kid. I did newspaper delivery and I really don't know what my parents did in those days. But I will tell you, if this person makes more than $600, they are considered self-employed. And so you might want to make sure that that income is being reported properly and it would be on a Schedule C. If you need help determining this, 615-367-0819.
You can catch the Dr. Friday call-in show live every Saturday afternoon from 2 to 3 p.m. right here on 99.7 WTN.