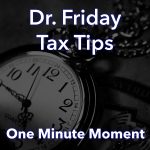 Dr. Friday 0:00
Good day. I'm Dr. Friday, president of Dr. Friday Tax and Financial Firm. To get more info go to www.drfriday.com. This is a one-minute moment.
Dr. Friday 0:12
Have you maximized your 401k which is $19,500 or the catch-up if you're over the age of 50 additional 6000? Have you maximized your health savings account? For single people, it's 3600 families 7200. It's still there, you may have time to actually do these to be able to put more money. Also, consider putting some money in a child's IRA if they have earned income. This is another way to help defer taxes. Start thinking guys! It's time. We're getting ready to go into a new tax season. And now's the last couple of days that you might be able to think of a few things that you can save taxes on now so that way you don't pay taxes on it next year.
Announcer 0:51
You can catch the Dr. Friday call-in show live every Saturday afternoon from 2 pm to 3 pm right here on 99.7 WTN.