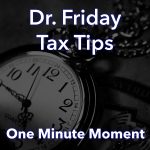 Dr. Friday 0:00
Good day. I'm Dr. Friday, president of Dr. Friday Tax and Financial Firm. To get more info go to www.drfriday.com. This is a one-minute moment.
Dr. Friday 0:12
Merry, merry, merry Christmas. I hope that you're getting to be able to spend time with family and friends. And maybe just not really worry about all the other little things that are happening in life. Be thankful for the things we have. Enjoy the family and the time especially after the whole COVID maybe you've been able to get together this year and enjoy just being with people. I mean, it's been such a quiet year, the year before. This year. I hope that all of you guys take the time to be thankful to enjoy the things that we have, and just this been the time happy loving, and I really appreciate all of you guys listening and I hope you have a very Merry Christmas.
Announcer 0:51
You can catch the Dr. Friday call-in show live every Saturday afternoon from 2 pm to 3 pm right here on 99.7 WTN.