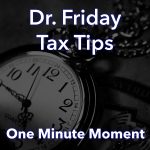 Dr. Friday 0:00
Good day. I'm Dr. Friday, president of Dr. Friday Tax and Financial Firm. To get more info go to www.drfriday.com. This is a one-minute moment.
Dr. Friday 0:12
Let's do a quick fact check-in in 2021. First, the marginal tax rates are 10 through 37. If you are, for example, 24% margin for tax bracket limits, a single person can earn up to $164,900. A joint filer $329, 850. That's going to be the margin for 24%. Child tax credit is 3000 for children over the age of 6. 3,600 for children underneath. Filers with AMT tax could start kicking in at 73 and joint filers at 114. I hope you guys have a very Merry Christmas Eve.
Announcer 0:51
You can catch the Dr. Friday call-in show live every Saturday afternoon from 2 pm to 3 pm right here on 99.7 WTN.