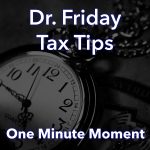 Dr. Friday 0:00
Good day. I'm Dr. Friday, president of Dr. Friday Tax and Financial Firm. To get more info go to www.drfriday.com. This is a one-minute moment.
Dr. Friday 0:12
Charitable contributions. It's almost the end of the year. And if you've been giving money to charity, we want to make sure we save that least up to $300 for individuals and $600 for married couples. But also I want you to stay in the habit because the tax law we're working on right now will expire in 2025. That means that after that you may be needing to be able to bring those receipts back to your tax person. And if you stay focused on what you're always used to doing, it's a lot easier to do than having to retrain yourself. So make sure you start saving your receipts, tracking your miles for charity, medical and that will make it through.
Announcer 0:52
You can catch the Dr. Friday call-in show live every Saturday afternoon from 2 pm to 3 pm right here on 99.7 WTN.