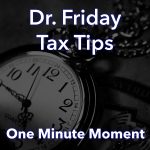 Dr. Friday 0:00
Good day. I'm Dr. Friday, President of Dr. Friday's Tax and Financial firm. To get more info go to www.drfriday.com. This is a one-minute moment.
Dr. Friday 0:12
As an enrolled agent licensed by the Internal Revenue Service, we deal with tax issues. But we also deal with small businesses; we deal with individual estates. We've been doing this for 20-plus years, and it's something that we're really good at. So if you've got questions, you need help, you need to understand how to get started because maybe you haven't filed taxes in a number of years. We can help you not only get those taxes filed but help you find the information needed to file those taxes. That's the hardest thing getting started once we get you rolling normally. It's not a problem. If you want to book an appointment. The easiest way to do that is to go to www.drfriday.com.
Announcer 0:51
You can catch the Dr. Friday call-in show live every Saturday afternoon from 2 pm to 3 pm on 99.7 WTN.