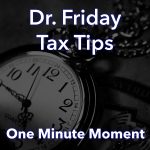 Dr. Friday 0:00
Good day. I'm Dr. Friday, president of Dr. Friday Tax and Financial Firm. To get more info, go to www.drfriday.com. This is a one minute moment.
Question asked to me: What should I do if I make a mistake on my federal tax return? Well, it kind of depends on what the mistake is. Is the mistake going to change your tax amount due in your favor or in the IRS is favor? Either way, then you would want to amend a 1040X. If it's not going to have any change, sometimes what happens is a person will get an amended to 99B or something like that, but it has a zero effect on taxes, then I would not make any changes because the IRS came back we'll be able to give them that information.
But if you need help understanding that or the tax questions, call me at 615-367-0819.
Announcer 0:52
You can catch the Dr. Friday Call-In Show live every Saturday afternoon from 2 pm to 3 pm right here on 99.7 WTN.