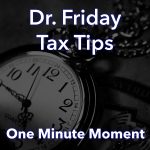 Dr. Friday 0:00
Good day. I'm Dr. Friday, president of Dr. Friday Tax and Financial Firm. To get more info, go to www.drfriday.com. This is a one minute moment.
Can I receive a tax refund if I'm currently making payments under an installment agreement? This is a question that was asked to me and the answer is NO. The IRS is trying to get that tax that paid off faster, not trying to give you the money and then say hey, you just continue to make me a partial payment. So if you are in a payment plan, even after you've made an offer and compromise and it's been accepted for the first year, they're going to keep your refunds. So under a payment plan, they're going to keep your refunds and if you own student loan debts or even state tax from other states, that refund can be applied to those.
If you need help understanding this or more, call me at 615-367-0819.
Announcer 0:52
You can catch the Dr. Friday Call-In Show live every Saturday afternoon from 2 pm to 3 pm right here on 99.7 WTN.