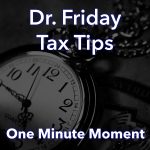 Dr. Friday 0:00
Good day. I'm Dr. Friday, president of Dr. Friday Tax and Financial Firm. To get more info, go to www.drfriday.com. This is a one minute moment.
It is tax time, in full fledge, and we are ready to be filing taxes! First, go to drfriday.com if you haven't already set up your tax appointment. That calendar is getting rather full. Also, if you need help filing back taxes, it's really important to get yourself into compliance. There's no way of making a deal with the IRS. You always hear on the radio, "Oh we can help you settle a debt with the IRS for 10 cents on the dollar." A: that doesn't work for everyone, but truly to do any kind of negotiating, you have to be in compliance. The first thing you have to do file all your back taxes then we can talk about is there a deal to be made.
Call me if you need help, 615-367-0819.
Announcer 0:51
You can catch the Dr. Friday Call-In Show live every Saturday afternoon from 2 pm to 3 pm right here on 99.7 WTN.