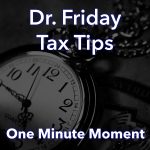 Dr. Friday 0:00
Good day. I'm Dr. Friday, president of Dr. Friday Tax and Financial Firm. To get more info, go to www.drfriday.com. This is a one minute moment.
Last year it came into play and just remember that we still have the 199-A QBI – Qualified Business Investment. And rental property does fall into it. There is some expertise you need to understand. You have to have more than 250 hours, it could be that you have hired someone to do those. It also means you need you to maintain a property and each property must have its own record. So if you've got 40 rental properties, you can't lump them all together. They have to be treated as individual properties. There is some expertise but it may be worth tracking those extra expenses to put quite a bit more in your pocket.
If you need help, 615-367-0819.
Announcer 0:52
You can catch the Dr. Friday Call-In Show live every Saturday afternoon from 2 pm to 3 pm right here on 99.7 WTN.