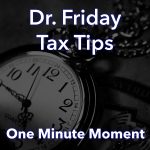 Dr. Friday 0:00
Good day. I'm Dr. Friday, president of Dr. Friday Tax and Financial Firm. To get more info, go to www.drfriday.com. This is a one minute moment.
Tracking your tax deductions. It's time to make sure you have a good source of doing it. Nowadays, you can use your cell phone, take pictures that turned into PDF, there is scan files that you can actually track all through your phone and put them into folders, so your expenses are actually categorized online – you have options. Not tracking your expenses nowadays is kind of an excuse. You need to make sure because if you truly want to have tax deductions, you need to have proof of paying those deductions. You can't just sit there and throw numbers on a tax return. Sooner or later, that's not going to work.
Give me a call if you need help setting that up at 615-367-0819.
Announcer 0:52
You can catch the Dr. Friday Call-In Show live every Saturday afternoon from 2 pm to 3 pm right here on 99.7 WTN.