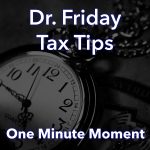 Dr. Friday 0:00
Good day. I'm Dr. Friday, president of Dr. Friday Tax and Financial Firm. To get more info, go to www.drfriday.com. This is a one minute moment.
Make sure that when you're going to get ready, you're going to leave the country or maybe you have to delay doing your tax preparation and you want to file an extension and you've been with the same preparer forever like many of my clients I've had for 20 years, then you need to make sure that they have filed an extension for you. According to the IRS, they specifically put out a letter saying that if your preparer failed to file an extension for you, it is not an excuse for failure to file. So make sure that if you're going to be filing an extension or you are not gonna be able to file your taxes on time and extension has been filed and make sure you have documentation.
Do you need help? 615-367-0819.
Announcer 0:53
You can catch the Dr. Friday Call-In Show live every Saturday afternoon from 2 pm to 3 pm right here on 99.7 WTN.