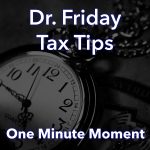 Dr. Friday 0:00
Good day. I'm Dr. Friday, president of Dr. Friday Tax and Financial Firm. To get more info, go to www.drfriday.com. This is a one minute moment.
You know, we talked a lot, especially last year about QBI – Qualified Business Income. And some of the wonderful advantages of that 20% that you can get. Before the things, we did figure out is that the self-employed health insurance right off lowers that benefit. So basically, what we're saying is, is that when you actually have to, and most of us as entrepreneurs, write off our self-employment. And if it's $10,000 you could be losing 20% of that or $2,000 of your QBI. Still, a better deduction to take 100% of it off.
But just keep in mind sometimes everything doesn't seem as it appears on taxes, call me 615-367-0819.
Announcer 0:52
You can catch the Dr. Friday Call-In Show live every Saturday afternoon from 2 pm to 3 pm right here on 99.7 WTN.