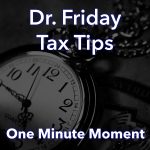 Dr. Friday 0:00
Good day. I'm Dr. Friday, president of Dr. Friday Tax and Financial Firm. To get more info, go to www.drfriday.com. This is a one minute moment.
Willfully failing to report foreign accounts can lead to a stiff penalty. But the courts are still a little bit, figuring out what those penalties are going to be. Under the statutory right now the greater of $100,000 or 50% is the penalty – that sounds pretty darn stiff to me. So if you have more than equivalent of $10,000 American dollars in any bank account overseas, anytime during the year that really needs to be reported on your tax return. And then if you make interest or dividends in that country, you also need to pay tax on that.
Do you need help? 615-367-0819.
Announcer 0:52
You can catch the Dr. Friday Call-In Show live every Saturday afternoon from 2 pm to 3 pm right here on 99.7 WTN.