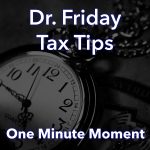 Dr. Friday 0:00
Good day. I'm Dr. Friday, president of Dr. Friday Tax and Financial Firm. To get more info, go to www.drfriday.com. This is a one minute moment.
Donations. So one of the biggest things you have to worry about in donations, well a couple of things, is one, we have the standard deduction that has increased. So you've got $12,200 or $24,400 under the current tax law. And then you've got to have to figure out, say you meet that with your mortgage interest, your property taxes and contributions, you need to make sure that you are contributing money to a true 501-C3. Because there are a lot of online sites that say they're raising money for hurricane victims or raising money for medical reasons, and they're not qualified. And if you're audited, you'll lose that deduction.
Call me 615-367-0819.
Announcer 0:52
You can catch the Dr. Friday Call-In Show live every Saturday afternoon from 2 pm to 3 pm right here on 99.7 WTN.