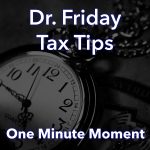 Dr. Friday 0:00
Good day. I'm Dr. Friday president of Dr. Friday's tax and financial firm. To get more info go to www.drfriday.com. This is a one-minute moment.
Dr. Friday 0:13
Interestingly enough, because you weren't able to work a full schedule in 2020, you may have received some 1099's for sick pay or money your employers paid you that came to you through a form called a 1099 NEC instead of your W2. Many people are asking is this actually going to be treated as earnings or is it just other income? It should be other income. This is usually a replacement for a family leave act or something like that that was paid through the COVID distributions. If you haven't found it or you haven't paid it, make sure you correct your taxes or call us at 615-367-0819.
Announcer 0:52
You can catch the Dr. Friday call-in show live every Saturday afternoon from 2 pm to 3 pm right here on 99.7 WTN.