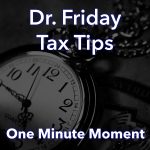 Dr. Friday 0:00
Good day. I'm Dr. Friday president of Dr. Friday's tax and financial firm. To get more info go to www.drfriday.com. This is a one-minute moment.
Dr. Friday 0:12
My name is Dr. Friday. Many of you guys are probably listening to me on Saturday at two o'clock. But this is the one-minute moment that hopefully is going to make you think. It's about talking about things we need to do or things you should be planning on for your taxes. If you've got tax questions, you can always email friday@drfriday.com. It's a busy time right now and I know the phone lines are really busy but you can try calling 615-367-0819 and if you just have no idea who I am, go to drfriday.com. It's going to tell you that I've been in business for 25 years and been doing taxes helping people with the IRS and I can help you.
Announcer 0:52
You can catch the Dr. Friday call-in show live every Saturday afternoon from 2 pm to 3 pm right here on 99.7 WTN.