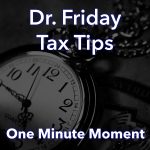 Dr. Friday 0:00
Good day. I'm Dr. Friday president of Dr. Friday's tax and financial firm. To get more info go to www.drfriday.com. This is a one-minute moment.
Dr. Friday 0:12
Making sure your information with the Internal Revenue Service is correct is your job. Sure when you file a tax return, they're going to update that information to the best they can. But if you have moved relocated, have other information that isn't in their system, it's your job on an ADA 22 to make sure your name, your old address, and your new address, and social security numbers are correct. If there's a problem with it, you need to contact the IRS and there is a direct line it's going to be busy 1-800-829-1040 or if you need more help with the IRS call us at 615-367-0819.
Announcer 0:52
You can catch the Dr. Friday call-in show live every Saturday afternoon from 2 pm to 3 pm right here on 99.7 WTN.