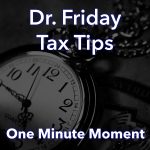 Dr. Friday 0:00
Good day. I'm Dr. Friday president of Dr. Friday's tax and financial firm. To get more info go to www.drfriday.com. This is a one-minute moment.
Dr. Friday 0:12
We're preparing tax returns and PPP money. Keep in mind under the new tax law, they changed on 12-21-20. They basically said that in addition to expanding the retention, all allowable business deduction expenses associated with forgiveness on the PPP loan are deductible, which changes a lot of the things that many of us had had. So when you're filing your tax return, you might want to make sure that you have done this correctly for your business, your corporation, your partnership, and your limited liability. We can help you with all of those we do all tax returns, all states, all you have to do is call us at 615-367-0819.
Announcer 0:52
You can catch the Dr. Friday call-in show live every Saturday afternoon from 2 pm to 3 pm right here on 99.7 WTN.