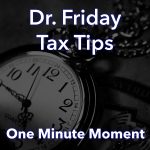 Dr. Friday 0:00
Good day. I'm Dr. Friday, President of Dr. Friday's Tax and Financial firm. To get more info go to www.drfriday.com. This is a one-minute moment.
Dr. Friday 0:12
Charitable deductions. First, the simple answer is if you paid cash for $300 as a single person is paid cash for $600 for a married couple, we have above-the-line standard deductions. What's better than that? If you are over the age of 70, taking required minimum distributions, guess what? Then you can take what's called a QCD-qualified charitable deduction. It comes dollar for dollar off the top of your distribution. This is awesome for people that are taking RMDs. If you don't know what I'm talking about, you need to talk to your financial person today. You can call us at 615-367-0819.
Announcer 0:51
You can catch the Dr. Friday call-in show live every Saturday afternoon from 2 pm to 3 pm on 99.7 WTN.