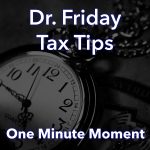 Dr. Friday 0:00
Good day. I'm Dr. Friday, President of Dr. Friday's Tax and Financial firm. To get more info go to www.drfriday.com. This is a one-minute moment.
Dr. Friday 0:12
Did you know there are two ways to help your kids or grandkids? With their college education, they pay tuition directly to the school. The payment is nontaxable to the student and doesn't count against the $16,000 gift exclusion. It does reduce your estate tax. But come on, people, those taxes are massively large for most of us; you got over $12 million dollars. This might be a great way to help your grandson or your child finish school without student loans, and we all know how bad those can be. If you need help with this or other questions, why don't you check us out on the web at drfriday.com?
Announcer 0:51
You can catch the Dr. Friday call-in show live every Saturday afternoon from 2 pm to 3 pm on 99.7 WTN.