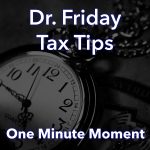 Dr. Friday 0:00
Good day. I'm Dr. Friday, President of Dr. Friday's Tax and Financial firm. To get more info go to www.drfriday.com. This is a one-minute moment.
Dr. Friday 0:12
Alimony payments, separation agreements, and the money that goes along with them. If this happened after December 31, 2018, we would have a huge change. If you divorced in 2017, your alimony is going to be a tax deduction and taxable to the person receiving it. If you divorced in 2019, January 1st, or after, you are not able to deduct alimony, and the person receiving it does not pick that up as income. This is very important to understand and make sure that you're putting the money in the right place. I can't tell you how many times I've had to correct it. Go to drfriday.com.
Announcer 0:51
You can catch the Dr. Friday call-in show live every Saturday afternoon from 2 pm to 3 pm on 99.7 WTN.