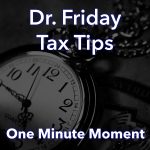 Dr. Friday 0:00
Good day. I'm Dr. Friday, President of Dr. Friday's Tax and Financial firm. To get more info go to www.drfriday.com. This is a one-minute moment.
Dr. Friday 0:12
People always ask me, "What's the difference between a tax credit and a tax deduction?" And one can be a lot more effective than the other. For example, if you take a tax credit, that is a dollar-for-dollar deduction on your income, so if we say your tax liability is a tax credit of $1,000, you will reduce your taxes by $1,000. If I say you have a tax deduction of $1,000, that would be pinned on your tax bracket, which could mean that if you're in the 22% tax bracket, you may save $220. Big difference. Do you need help with taxes? Call me at 615-367-0819.
Announcer 0:51
You can catch the Dr. Friday call-in show live every Saturday afternoon from 2 pm to 3 pm on 99.7 WTN.