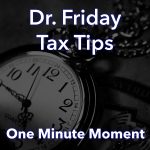 Dr. Friday 0:00
Good day. I'm Dr. Friday, President of Dr. Friday's Tax and Financial firm. To get more info go to www.drfriday.com. This is a one-minute moment.
Dr. Friday 0:12
Adoption tax credit. For those who adopt a child, you can receive a credit of up to $14,440 is qualified adoption expenses are required for the year 2021. Or if you adopt a child with special needs, again, $14,440 is what you can adopt. And the perfect part about this guy is if you don't need it in one year, it will roll over, so you won't lose that adoption credit; you will be able to use it throughout the next year or two. So you know, for all those that do adopt, this is an awesome credit. You can reach me at 615-367-0819.
Announcer 0:51
You can catch the Dr. Friday call-in show live every Saturday afternoon from 2 pm to 3 pm on 99.7 WTN.