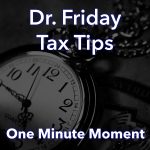 Dr. Friday 0:00
Good day. I'm Dr. Friday, President of Dr. Friday Tax and Financial firm. To get more info go to www.drfriday.com. This is a one-minute moment.
Dr. Friday 0:13
You know, a lot of times especially nowadays, it seems like people are looking at all kinds of ways, "Where can I put my money?" So we've got people that will go into the cryptocurrency, you've got people that go in the stock market, and there seem to be quite a few people that are into the collection of currency, meaning coins that are the collectible coins, gold bar, silver, any kind of precious metals or antiques, because those are places where you can actually grow your money as well. And understand that if you are into precious metals and antiques, the tax code instead of being capital gains is 28%. So make sure your money is working for you.
Dr. Friday 0:51
You can catch the Dr. Friday call-in show live every Saturday afternoon from 2 pm to 3 pm right here on 99.7 WTN.