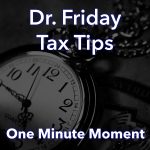 Dr. Friday 0:00
Good day. I'm Dr. Friday, President of Dr. Friday Tax and Financial firm. To get more info go to www.drfriday.com. This is a one-minute moment.
Dr. Friday 0:12
So, now you have prepared your taxes for 2021 and you owe money. What's the next step? If you have a real job, this next step is getting a W 4 from your employer or downloading it and preparing it so that you can take out extra money. Maybe you're claiming you have three children, maybe you truly do have three children, then you might want to go down to two children so you have a little bit more come out. Or you can take the dollar amount that you owe divided by the number of paychecks and have that extra dollar amount come out of your paycheck. Give that W 4 to whoever prepares the checks and that way then you've got a head start on the 2022 tax year and maybe you won't have such bad news when filing taxes.
Announcer 0:51
You can catch the Dr. Friday call-in show live every Saturday afternoon from 2 pm to 3 pm right here on 99.7 WTN.