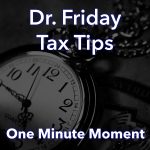 Dr. Friday 0:00
Good day. I'm Dr. Friday, President of Dr. Friday Tax and Financial firm. To get more info go to www.drfriday.com. This is a one-minute moment.
Dr. Friday 0:12
Again, we are in the middle of tax season, it's busy. And if you don't have all of your tax documents right now, I'm going to suggest that you think about filing an extension. It's a little early and remembers, an extension does not extend the amount of money you owe. What it will give you is the time to prepare your taxes correctly. Not just throwing a bunch of numbers on a piece of paper because you're afraid you're not going to get them done on time. And that is very important. You don't want the wrong information going to the IRS. It's going to take a year or two to fix that information. Better to file an extension, get it right, but maybe send in a little extra money to cover your taxes.
Announcer 0:52
You can catch the Dr. Friday call-in show live every Saturday afternoon from 2 pm to 3 pm right here on 99.7 WTN.