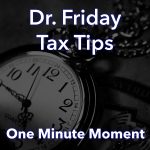 Dr. Friday 0:00
Good day. I'm Dr. Friday, President of Dr. Friday's Tax and Financial firm. To get more info go to www.drfriday.com. This is a one-minute moment.
Dr. Friday 0:12
Tax deadlines are important. March 15, the 1120S, 1065. If you have an April 15th, you have 1014, 1120s many nonprofits 990s are due. These are important deadlines because the penalties will go up by 25% if you haven't filed those taxes on time or an extension. Again, extensions are great, giving you the time to do everything correctly. It does not extend the money you owe. But making sure you know when your taxes are due and how you can extend that deadline could save you 25% in taxes.
Announcer 0:52
You can catch the Dr. Friday call-in show live every Saturday afternoon from 2 pm to 3 pm right here on 99.7 WTN.