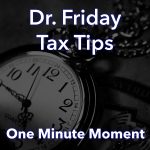 Dr. Friday 0:00
Good day. I'm Dr. Friday, president of Dr. Friday Tax and Financial Firm. To get more info go to www.drfriday.com. This is a one-minute moment.
Dr. Friday 0:12
AMT tax is one of those hidden taxes it's a tax code within the tax code. Leave it to all of us to find ways that we can do something about taxing somebody twice. AMT is an exemption amount and phase-out limitations in the years of 2018 through 2025 are basically you're exempt up to a married file couple 114,600. Head of Household 73,600 and married filing separately in 57,300 and singles 73,600. But you guys, he this is a sneaky tax if you're selling things, especially if you've sold and made a good profit, make sure you understand the taxes.
Announcer 0:51
You can catch the Dr. Friday call-in show live every Saturday afternoon from 2 pm to 3 pm right here on 99.7 WTN.