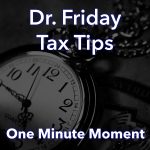 Dr. Friday 0:00
Good day. I'm Dr. Friday, president of Dr. Friday Tax and Financial Firm. To get more info go to www.drfriday.com. This is a one-minute moment.
Dr. Friday 0:12
QBI. We've talked about it a lot. It's section 199 A, and this has been on the books since 2018. But it has made it much easier for people with rental properties. I've done many tax returns where I found out people weren't taking it in the past. You can qualify for this in many circumstances. Now if someone else is managing your properties, you don't qualify. There are some fine lines. But of course business owners, if you're part of a partnership or corporation and you're participating, you will qualify. And this is another way of getting a deduction on your tax return that can be quite substantial. Give me a call if you have questions.
Announcer 0:51
You can catch the Dr. Friday call-in show live every Saturday afternoon from 2 pm to 3 pm right here on 99.7 WTN.