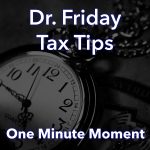 Dr. Friday 0:00
Good day. I'm Dr. Friday, president of Dr. Friday Tax and Financial Firm. To get more info go to www.drfriday.com. This is a one-minute moment.
Dr. Friday 0:12
Scams. There are so many different scams out there right now. So let me just basically say use common sense. There's been a big notice that came out and they basically are saying there are letters that come to that look like they're from the IRS. There are phone calls, they're saying that they're calling from the IRS. There are people from the Social Security Administration saying that your social security number has been hacked. You know the first thing you want to do is hang up on those people. I don't care if it truly is those and call the offices that are directly associated. Call the IRS to call the Social Security Administration. Talk to someone that knows your account. Don't fall for a scam.
Announcer 0:51
You can catch the Dr. Friday call-in show live every Saturday afternoon from 2 pm to 3 pm right here on 99.7 WTN.