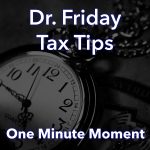 Dr. Friday 0:00
Good day. I'm Dr. Friday, President of Dr. Friday's Tax and Financial firm. To get more info go to www.drfriday.com. This is a one-minute moment.
Dr. Friday 0:12
Child Tax Credit. It's not so much that we have a child tax credit I want to touch on, but who qualifies for a child tax credit? There are a lot of misconceptions that any person that has a child knows you can put them on your tax return and claim them as your dependent. That is not the way the tax law is written. I don't care if that child is living in your house. If that is someone that is a friend of yours, not related, you don't have full custody, that child is not your child, even if it's a grandchild that you may have or even comes in and out of the house. Make sure you have the right to the child tax credit, or you're going to pay back a lot of money.
Announcer 0:51
You can catch the Dr. Friday call-in show live every Saturday afternoon from 2 pm to 3 pm on 99.7 WTN.