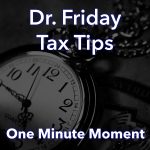 Dr. Friday 0:00
Good day. I'm Dr. Friday, President of Dr. Friday's Tax and Financial firm. To get more info go to www.drfriday.com. This is a one-minute moment.
Dr. Friday 0:12
Now is the time to start thinking about getting your taxes straight as an enrolled agent licensed by the Internal Revenue Service. It's what I do. It's what I've done for 20-plus years. We help people get back on track. We help them negotiate. We help them set up payment plans. We help them figure out what's the best way to get straight with the IRS. Then you can actually borrow the money you can keep your house without worrying about liens. You gotta have levees. All those things can be removed, but the best way to do it is first to pick up the phone and call me at 615-367-0819. If you have no idea who I am just go to the web at drfriday.com.
Announcer 0:51
You can catch the Dr. Friday call-in show live every Saturday afternoon from 2 pm to 3 pm on 99.7 WTN.