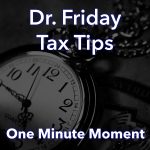 Dr. Friday 0:00
Good day. I'm Dr. Friday, President of Dr. Friday's Tax and Financial firm. To get more info go to www.drfriday.com. This is a one-minute moment.
Dr. Friday 0:12
And you know, I have a number of clients, and one of the first things they always try to do is, "How's my withholding not being enough? And I owe money every single year. And why is that happening?" So the irs.gov, you can go to www.irs.gov. And they have a withholding estimator, and it takes into account two-income families because that's often where the problem is. Or if you work two jobs, or you have children, but they're actually over the age of 17. And you're not getting the credits that you were getting prior. So making sure this is the time, guys, it's January let's make effect so that way 2023 will be an awesome year for you.
Announcer 0:51
You can catch the Dr. Friday call-in show live every Saturday afternoon from 2 pm to 3 pm on 99.7 WTN.