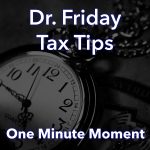 Dr. Friday 0:00
Good day. I'm Dr. Friday, President of Dr. Friday's Tax and Financial firm. To get more info go to www.drfriday.com. This is a one-minute moment.
Dr. Friday 0:13
Casualty loss-affected taxpayers under the federally declared disaster area have an option of claiming the loss in the year that it happens or the prior year, whichever is going to possibly be best for you. And again, we did have a federal disaster on May 16, 2022. It may affect you it may not have affected you. But if you have a situation, you might want to review your taxes not only for 2022 but possibly for 2021, amending them so that you can get the most back on your taxes. If you need help, you can pick up the phone at 615-367-0819.
Announcer 0:51
You can catch the Dr. Friday call-in show live every Saturday afternoon from 2 pm to 3 pm on 99.7 WTN.