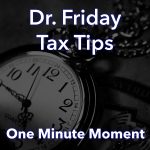 Dr. Friday 0:00
Good day. I'm Dr. Friday, president of Dr. Friday Tax and Financial Firm. To get more info, go to www.drfriday.com. This is a one minute moment.
Putting money away in your 401k, your SEP, your IRA? These are wonderful tools. But you also need to ask yourself if you're in a certain tax bracket. If you're a married couple combined income less than $100,000, maybe you should be thinking about a Roth. If you're an individual total income less than $50,000. Maybe you should be thinking about a Roth. It's at 12% tax for the next few years, you're probably going to set aside more that can grow tax-free than deferring it into an after-tax account or pre-tax account. So you need to actually talk to your financial planner, find out what is best for you because you don't want to leave any money on the table.
Announcer 0:49
You can catch the Dr. Friday Call-In Show live every Saturday afternoon from 2 pm to 3 pm right here on 99.7 WTN.