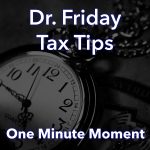 Dr. Friday 0:00
Good day. I'm Dr. Friday, president of Dr. Friday Tax and Financial Firm. To get more info, go to www.drfriday.com. This is a one minute moment.
You need to check out our new website. You can go in there, follow our blogs, follow our radio show if you missed the radio show they're on there so you can just go through listen to another show or maybe you heard something you really liked and you want to give it to a friend or pass it on or relisten, you can go to drfriday.com. You can also set up your tax appointments. The text calendar is getting full but now's the time to make sure you have your tax appointment. That way you can make sure you're getting some help where you need it. And if you haven't filed for taxes for a number of years, I'm an expert at back taxes.
So all you have to do is go to drfriday.com or call me at 615-367-0819.
Announcer 0:52
You can catch the Dr. Friday Call-In Show live every Saturday afternoon from 2 pm to 3 pm right here on 99.7 WTN.