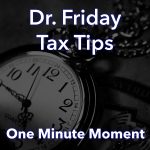 Announcer 0:00
Good day. I'm Dr. Friday, president of Dr. Friday's tax and financial firm. To get more info go to www. Dr. friday.com. This is a one minute moment.
Dr. Friday 0:12
We've had a couple of rough years for many people. But more and more people are setting up payment plans getting on track with the IRS. One of the questions I'm always receiving is, what if I have a refund this year? Will I get that refund even if I'm on a payment plan? And the answer is most likely, no. They're going to apply any overpayments you have to your outstanding balance. Now, remember, stimulus checks are not being applied to outstanding balance but if you actually have a refund on your tax return, you want to do that. If you haven't filed taxes for three years and you have refunds, guess what? You just lost them. Call me at 615-367-0819
Announcer 0:52
You can catch the Dr. Friday call-in show live every Saturday afternoon from 2 pm to 3 pm right here on 99.7 WTN.