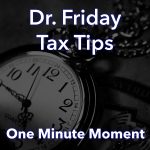 Announcer 0:00
Good day. I'm Dr. Friday, president of Dr. Friday's tax and financial firm. To get more info go to www. Dr. friday.com. This is a one minute moment.
Dr. Friday 0:12
Making sure that when you're claiming dependents. We're getting close guys, people are thinking about preparing their 2020 taxes, and we're getting close to that deadline. Keep in mind that if you have someone living with you, and they have children, those children are not necessarily your deductions or dependents. You need to make sure and if they're not related to you, they may not even be able to be put on your tax return. Double-check the information make sure you have the proper documentation to justify that deduction. The IRS is auditing this more and more and you want to make sure you're doing this right if you need help, call 615-367-0819.
Announcer 0:52
You can catch the Dr. Friday call-in show live every Saturday afternoon from 2 pm to 3 pm right here on 99.7 WTN.