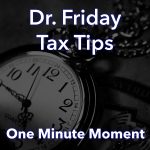 Dr. Friday 0:00
Good day. I'm Dr. Friday, president of Dr. Friday Tax and Financial Firm. To get more info go to www.drfriday.com. This is a one minute moment.
Dr. Friday 0:12
I've been doing taxes now for more than 20 years here in the Brentwood, Tennessee area. If you have questions or you're not too sure exactly where to get started, maybe you haven't filed taxes. Maybe you just recently got married and you're wanting to make sure that all the tax issues or tax questions are answered, you need to set up an appointment. I can help you get organized, and we can make sure that the IRS is on the right page. Even though you're getting married, maybe you don't want your spouse to be responsible for your taxes. Is an innocent spouse or an injured spouse. Something that you need to consider when filing your taxes for the next few years is getting married. You need questions you need to call me at 615-367-0819.
Announcer 0:52
You can catch the Dr. Friday call-in show live every Saturday afternoon from 2 pm to 3 pm right here on 99.7 WTN.