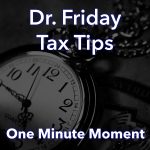 Dr. Friday
Good day! I'm Dr. Friday, president of Dr. Friday Tax and Financial Firm. To get more info go to www.drfriday.com. This is a one minute moment.
Nearly 2 million ITIN numbers will be expiring by the end of 2019. For all of you that aren't sure, that's an individual tax ID number. Many of my clients have those because I don't like my clients using their social security number if they have a small business. Every time you fill out a W9 or you have something that has to go out, I'd much rather have an EIN number on it. But if you haven't used it in a while, (couple years) or it ends with 83, 84, 85, 86, or 87, you need to make sure it's in good standing.
If you need help with your taxes or have questions about taxes. You know, the easiest thing. Pick up the phone and call me (615) 367-0819.
Announcer
You can catch the Doctor Friday Call-in Show live every Saturday afternoon from 2pm to 3pm right here on 99.7 WTN.