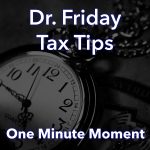 Dr. Friday
Good day! I'm Dr. Friday, president of Dr. Friday Tax and Financial Firm. To get more info go to www. drfriday.com. This is a one minute moment.
Many of us have now survived the 2018 tax filing. And we're wondering what happened? Why did my tax bill not really go down? I thought I was going to get this really big refund everyone talked about in 2018. But keep in mind, there was a couple things that happened. So you may find that 2019 will even be different than 2018. Because the tax law on your W2 for withholding tax really didn't go into effect until almost May. And then some of you actually got penalized because of the salt tax. Not having enough or having too much property taxes or income tax.
So if you need help with doing your taxes, you need to call me now. 615-367-0819 or check me out on the web drfriday.com.
Announcer
You can catch the doctor Friday call in show live every Saturday afternoon from two to 3pm right here on 99.7 WTN.