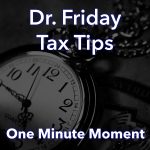 Dr. Friday
Good day. I'm Dr. Friday, president of Dr. Friday Tax and Financial Firm. To get more info go to www.drfriday.com. This is a one minute moment.
Starting January 2019, which was a few months ago at this point, they changed the rate for your mileage. So for all you they're trying to figure out, it's .58 cents a mile for our tax year of 2019. This is up from the .545 in 2018 and .20 cents for medical or moving miles. That was up from .18 cents in 2018.
Make sure you're keeping a log. This is a big area for great tax deductions. Also a big area for the IRS to audit. So nowadays with online apps, make sure you're using something. Mileage IQ or some other app that's going to help you out. Call me 615-367-0819.
Announcer
You can catch the doctor Friday Call-In show live every Saturday afternoon from 2 pm to 3 pm right here on 99.7 WTN.