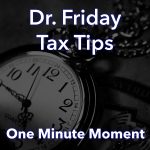 Dr. Friday 0:00
Good day. I'm Dr. Friday, president of Dr. Friday Tax and Financial Firm. To get more info go to www.DrFriday.com. This is a one-minute moment.
Dr. Friday 0:13
We know in the last year we have had a lot of tax changes. We know that several tax acts have passed. And let's go through and see if we can figure out what some of them are. The American Rescue Plan was signed by President Biden back on March 11, 2021. That one was basically the COVID relief bill that we had. They had the Consolidated Appropriation Act that also passed in 2021. And many of these have a major tax effect on what you're going to be doing. So if you've got questions, call me at 615-367-0819 or go to DrFriday.com.
Announcer 0:51
You can catch the Dr. Friday call-in show live every Saturday afternoon from 2 pm to 3 pm right here on 99.7 WTN.