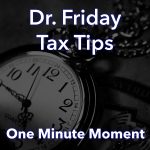 Dr. Friday 0:00
Good day. I'm Dr. Friday president of Dr. Friday's tax and financial firm. To get more info go to www.drfriday.com. This is a one-minute moment.
Dr. Friday 0:12
It is April the 15th. Not everyone gets so excited about April the 15th. But you know, when you're a tax nerd like I am, it is a big day for us and it's a big day for almost everybody because if you have not filed, you need to be calling us right now at 615-367-0819 so we can file your extension for you. We will do it for free. We do not want people getting penalized for not filing their extensions. If you've already filed one or you filed your taxes, congratulations. One more year checked off. Hopefully, this year is going to be a much better, healthier, and safer year for all of you. I hope you guys all have a wonderful April the 15th.
Announcer 0:52
You can catch the Dr. Friday call-in show live every Saturday afternoon from 2 pm to 3 pm right here on 99.7 WTN.