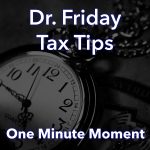 Dr. Friday 0:00
Good day. I'm Dr. Friday, president of Dr. Friday Tax and Financial Firm. To get more info, go to www.drfriday.com. This is a one minute moment.
We have a little over 30 days to prepare tax returns for LLCs, corporations, sub s corporations, corporations partnerships. Those entities are due on March the 16th. So if you haven't already filed or filed the extension – and remember the state doesn't extend for penalty. So, if you haven't filed your franchise excise you may want to make sure the extension was filed and that has to be 100% of the year before or a minimum of $100.
If you need help with doing that or filing those returns, you need to go to drfriday.com, click on the calendar and make an appointment today. That way we can help you stay in compliance.
Announcer 0:52
You can catch the Dr. Friday Call-In Show live every Saturday afternoon from 2 pm to 3 pm right here on 99.7 WTN.