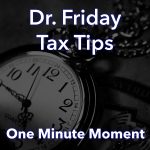 Dr. Friday 0:00
Good day. I'm Dr. Friday, president of Dr. Friday Tax and Financial Firm. To get more info, go to www.drfriday.com. This is a one minute moment.
As an enrolled agent licensed by the Internal Revenue Service to do taxes and representation, one thing that we're always trying to do is making sure our taxes and our tax clients are in compliance. This basically means if you've missed a couple of years in taxes, maybe you haven't had to file or maybe you just decided not to. If the IRS has filed for you – because they can – after a year or two, they can actually prepare the return and they will file it as single and zero even if you're married with four kids, they don't care. There will be no mortgage interest, no deductions. If you're self-employed, you need to get a head start on this and give them the right numbers.
If you need help, go to my website at drfriday.com and click on appointments.
Announcer 0:52
You can catch the Dr. Friday Call-In Show live every Saturday afternoon from 2 pm to 3 pm right here on 99.7 WTN.